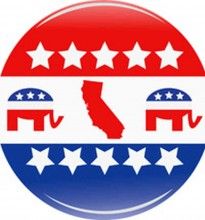 In recent years, California Senate Democrats have been their own worst enemy.
In 2012, the Senate Democratic Caucus ran the tables, winning every contested race. With Fran Pavley, Richard Roth and Cathleen Galgiani added to his caucus, Senate President President Pro Tem Darrell Steinberg, D-Sacramento, had a veto-proof, two-thirds majority.
They could do what they wanted, even pass tax increases, with any Republican objections  ignored.
But before that supermajority could be put to use, Senate Republicans were given a victory they hadn't earned at the ballot box. In February 2013, Senator Michael Rubio, D-Bakersfield, abruptly resigned to take a job with Chevron. In the ensuing special election, Republican Andy Vidak of Hanford upset Leticia Perez.
Rubio resignation began Democrats' downward spiral
Rubio's resignation was the beginning of a downward spiral for Senate Democrats. In quick succession earlier this year, three members of the Senate Democratic Caucus, Ron Calderon of Montebello, Rod Wright of Inglewood  and Leland Yee of San Francisco, faced high-profile scandals that brought about their suspensions and ended Senate Democrats' super-majority in the 2013-14 session.
This November, Democrats have no room for error, as favorable demographics and incumbent advantages have Senate Republicans poised to reclaim one-third control of the State Senate. In order to reach their expected 14-seat minority, Senate Republicans need to defend two Central Valley incumbents and win an open seat in Orange County, which is rated a toss-up by most political analysts.
Cannella appeals to immigrants
Despite declining statewide voter registration, Republicans have done well in recent elections appealing to moderate Democrats and decline-to-state voters in the conservative Central Valley. Four years ago, Senator Anthony Cannella, R-Ceres, beat then-Assemblywoman Anna Caballero by three points in an open seat being vacated by Rep. Jeff Denham, R-Turlock.
This year, Cannella faces a much weaker opponent in Democrat Shawn Bagley, a produce-broker and businessman from Salinas. Although Democrats hold a 14-point advantage in voter registration, Cannella will likely use his more than $900,000 warchest to tell voters about his moderate record in Sacramento.
Cannella co-sponsored legislation to allow undocumented immigrants to apply for driver's licenses. He's pushed Congress to adopt comprehensive immigration reform and voted in favor of the Dream Act, to allow undocumented immigrants to obtain conditional permanent residency and in-state tuition benefits.
Vidak: State's leading high-speed rail critic
While Cannella has worked to broaden the GOP's base, Vidak has appealed to moderate Democrats and independents on the issue of high-speed rail. The Legislature's leading high-speed rail critic, Vidak has questioned pay-to-play politics in the contracting process and called for a re-vote of the public, which in 2008 green-lighted the project by passing $9.9 billion in bonds in Proposition 1A.
This November, Vidak must again overcome a 17 percentage point Democratic registration advantage, as he faces Fresno School Board Trustee Luis Chavez.  If the primary is any indication, Vidak is well-positioned to defeat Chavez, who managed just 38 percent of the vote in the heavily Democratic district to Vidak's 62 percent.
Nguyen: GOP's opportunity to gain seat
With the effects of redistricting finally taking effect for even numbered State Senate seats, Republicans are guaranteed to pick up one seat, the 28th Senate district, in the Coachella Valley. The race remains too close to call, but the top three candidates, Riverside County Supervisor Jeff Stone, former Assemblywoman Bonnie Garcia and Indio Councilman Glenn Miller, are all Republicans.
The best pick-up opportunity for Senate Republicans lies in Orange County, where County Supervisor Janet Nguyen takes on former Assemblyman Jose Solorio, now a trustee on the Rancho Santiago Community College District Board. On Tuesday, despite having a second Republican candidate in the race, Nguyen earned 51.8 percent of the vote in the 34th Senate District. The district has an even split between Asian and Latino voters.
GOP long-shots, but on the table
Two more seats are long-shots for Republicans, but will likely remain on the table in November. In Alameda and Santa Clara county, GOP candidate Peter Kuo will face Democratic Assemblyman Bob Wieckowski, who escaped a bitter primary with former Assemblywoman and convicted shoplifter Mary Hayashi. Also impressing political analysts, former Downey Mayor Mario Guerra pulled in 44 percent of the vote in a heavily Democratic district.
"Comparing June vote totals to November is like comparing preseason to the playoffs," Senate President Pro Tem Darrell Steinberg, D-Sacramento, told the Los Angeles Times. "It's a completely different election with a completely different turnout universe."
In the 32nd Senate District, Guerra needs to overcome a nearly 2-to-1 voter registration disadvantage. Even without a long-shot victory in the Whittier-based district, Senate Democrats will lose a seat in November, when Sen. Mark DeSaulnier, D-Concord, is expected to win a seat in the U.S. House of Representatives. That would produce a new race next year for a replacement.
Candidate
Votes
Percent
Shawn K. Bagley


(Party Preference: DEM)

19,703
*
Anthony Cannella


(Party Preference: REP)

35,621
Candidate
Votes
Percent
Luis Chavez


(Party Preference: DEM)

17,296
*
Andy Vidak


(Party Preference: REP)

28,718
---
---
Related Articles
With the legal sale of recreational marijuana a week away, local governments across California have adopted policies on where and
Today Jon Ortiz of the Sacramento Bee reported that since neither Governor Arnold Schwarzenegger nor Republican gubernatorial candidate Meg Whitman
Three years ago I reviewed Ian Halpern's biography of then-Gov. Arnold Schwarzenegger, "The Governator: From Muscle Beach to His Quest