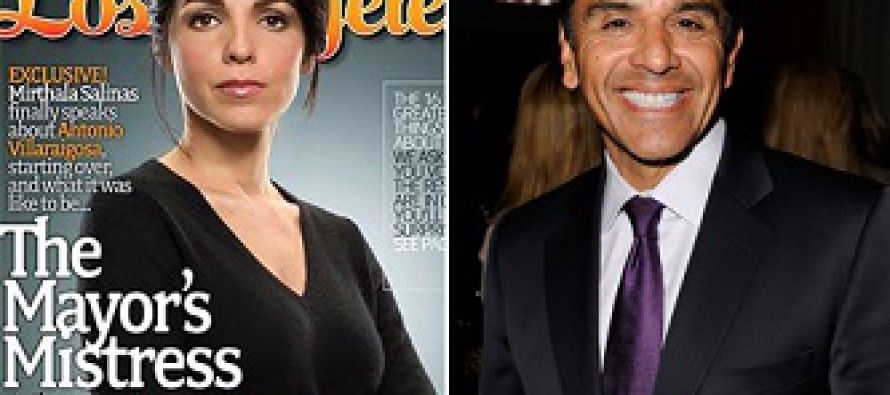 The signs are growing that state and national Democrats' attempts to clear the U.S. Senate field in 2016 for California Attorney General Kamala Harris aren't working. Several well-known Democrats are seriously considering challenging Harris, and at least a couple seem likely to run — starting with former Assembly Speaker and Los Angeles Mayor Antonio Villaraigosa.
In recent coverage of the Senate race to succeed retiring Barbara Boxer, talking heads on CNN and MSNBC have treated Villaraigosa, 61, as a formidable foe for Harris, 50. But they have been vague about what it is that might make him preferable to a Democratic rival who seems much more comfortable and appealing on TV and who has far more national patrons.
Given his mayoral record on issues of crucial importance to state Democrats — global warming, mass transit and disdain for cars — Villaraigosa has reasons for optimism. Billionaire environmentalist Tom Steyer may adopt Villaraigosa as his stand-in after his announcement Thursday that he wouldn't run for Senate.
This record is lauded in a June 2013 Los Angeles Times look back at his eight years as mayor.
Rail stations under construction on the traffic-clogged Westside attest to the billions of dollars in transit money he secured. …
And the Department of Water and Power established itself as a leader among utilities nationwide in shifting from coal-fired power plants to solar and wind energy. …
Villaraigosa took office amid rapid changes in the urban landscape of Los Angeles, most dramatically in the revival of downtown and Hollywood. He embraced those changes and tried to hasten the city's transformation into a place that is more amenable to pedestrians, cyclists and public transit passengers. The city opened 149 miles of bike lanes and launched CicLAvia, a festive cycling event along miles of boulevards closed to auto traffic for the day.
By lucky timing, large-scale rail investments by his predecessors came to fruition on Villaraigosa's watch. The Gold Line between Union Station and East L.A. opened, followed by the Expo Line linking downtown and Culver City.
But Villaraigosa made his own mark by leading the campaign for Measure R, a $35-billion transportation package passed by voters in 2008. Largely through that ballot measure, Villaraigosa reshaped the region's notoriously inefficient transit system more than any mayor since Bradley, who got a subway line built between downtown and North Hollywood. Measure R produced much of the money now being spent to extend the Expo Line into Santa Monica, start construction on the new Crenshaw Line in South Los Angeles and bring the Wilshire Boulevard subway to the Westside. It also covers an array of other rail, bus and road projects across Los Angeles County, some of them coupled with zoning changes to concentrate new development around transit stops and draw people out of their cars.
"One of the things about Villaraigosa that is most impressive is that he actually did get it done, and the importance of Measure R cannot be overstated," said Martin Wachs, an urban planning expert at the Rand Corp. …
Environmentalists welcomed the [city] utility's growing reliance on renewables, along with the drop in truck pollution at the Los Angeles Harbor, synchronization of city traffic lights and installation of energy-saving LEDs in city streetlights. Evan Gillespie, a deputy director of the Sierra Club's Beyond Coal Campaign, called Villaraigosa's record "phenomenal," particularly in addressing climate change. "We now have a road map from the largest public utility in the nation for how you rapidly cut carbon pollution," he said.
A politician who likes the ladies
But given the repeated tabloid headlines over his personal life during his time as mayor, Villaraigosa is also hugely vulnerable to attack ads. This George Skelton column only scratches the surface.
Actor Tom Hanks had a great line in the movie "A League of Their Own." Playing the crusty manager of a women's baseball team, he berates one member into tears and shouts: "There's no crying! There's no crying in baseball."
That came to mind when I read last week that Los Angeles Mayor Antonio Villaraigosa was asking for privacy, after admitting to an affair with a prominent TV reporter. To paraphrase Hanks' character, Jimmy Dugan, there's no privacy in politics.
There's no privacy, at least, that a politician can ever count on, particularly at Villaraigosa's level. He is, after all, mayor of the nation's second-largest city, with his eye on becoming the first Latino to be elected governor of California since statehood.
Of course, Kamala Harris could face salacious attack ads as well. Her rise to power in San Francisco politics began when Assembly Speaker Willie Brown chose to groom her for a big future after she became the married politician's girlfriend when he was 60 — and she was just 29.
---
---
Related Articles
Steven Greenhut: Here is a GOP statement regarding the ongoing budget mess. Perhaps, as one conservative activist suggested to me,
For a year, Cal Watchdog contributors and staffers (and a Cal Watchdog alum) have been pretty much alone in pointing
The state Legislative Office Building at 1020 N Street will be renamed the William L. Cavala Legislative Office Building, according