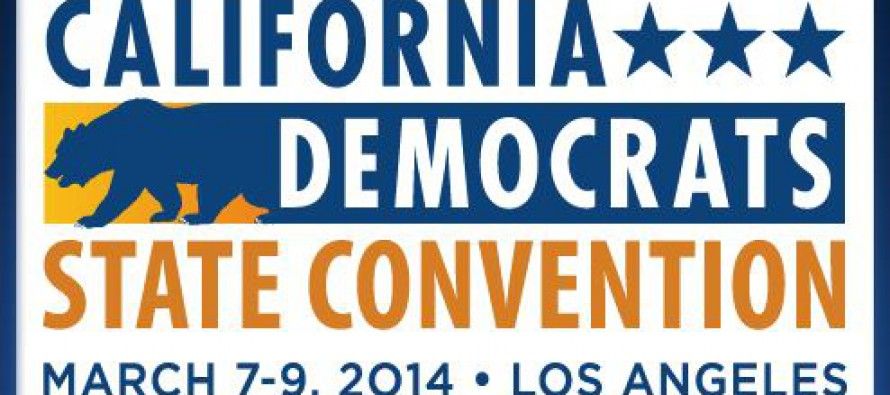 California Democrats converge on the Los Angeles Convention Center this weekend for the party's annual state convention.
Although Democrats face two scandals involving members of the state Senate, the party is well positioned for the 2014 campaign cycle. The party controls every statewide office and both houses of the state Legislature. Overall, the party has an advantage in voter registration of 2.6 million more than Republicans.
Gov. Jerry Brown is expected to cruise to reelection and could once again sweep Democrats into all of the statewide constitutional offices. The Democratic advantage is strongest in campaign fundraising. As of the last reporting deadline, 10 Democrat campaign committees had a collective $40 million in cash on hand.
And those big fundraising warchests could be put to work for the state's Democratic Party.
Those 10 Democratic campaign committees could easily collect a few hundred thousand dollars more per year, if they simply managed their money better. And, no, this hot tip isn't another scheme from Kindee Durkee.
In March 2012, Durkee, a popular California campaign treasurer, pleaded guilty to embezzling more than $8 million from Democratic candidates, including Sen. Dianne Feinstein.
Interest
Without dialing for dollars, Democrats could earn interest on their multi-million campaign war-chests. Under state campaign finance guidelines, campaign accounts can be invested in interest-bearing accounts. A few Democrats, such as State Treasurer Bill Lockyer, have figured this out. Last year, he earned a little more than $5,000 in interest.
Rep. Darrell Issa, R-Vista, is the best financial planner when it comes to his campaign account. According to Roll Call, his congressional campaign committee earned $82,457 from investments in just the third quarter of 2013. Among those returns were $19,293 in dividends on investments with Merrill Lynch, and $63,164 on unrealized gains. In the second quarter, the committee earned $32,108. In the first quarter, the committee earned $37,541.
If California Democrats wanted a more liquid investment, they could still earn interest from high-yield online savings accounts. According to the personal finance experts at Nerd Wallet, several banks are currently offering 0.90% APY rates for online accounts. At that rate, Democrats could earn a cool $30,133 per month, or $361,605 per year in free money.
California Democrats' war-chests:
California Democratic Party
Cash on Hand: $10,124,593.00
Interest Earned in 2013: $906.28
Potential Campaign Interest: $91,121.34
Jerry Brown
Current Office: Governor
Campaigning for 2014: Re-Election
Cash on Hand: $16,957,317.44
Interest Earned in 2013: $74.39
Potential Campaign Interest: $152,615.86
Gavin Newsom
Current Office: Lieutenant Governor
Campaigning for 2014: Re-Election
Cash on Hand: $1,703,596
Interest Earned in 2013: $2,529.01
Potential Campaign Interest: $15,332.36
Bill Lockyer
Current Office: State Treasurer
Campaigning for 2014: None
Cash on Hand: $2,109,731.00
Interest Earned in 2013: $5,020.32
Potential Campaign Interest: $18,987.58
Kamala Harris
Current Office: State Attorney General
Campaigning for 2014: Re-Election
Cash on Hand: $3,103,865.00
Interest Earned in 2013: $262.70
Potential Campaign Interest: $27,934.79
John Chiang
Current Office: State Controller
Campaigning for 2014: State Treasurer
Cash on Hand: $1,833,550
Interest Earned in 2013: $0.00
Potential Campaign Interest: $16,501.95
John Perez
Current Office: Speaker of the State Assembly
Campaigning for 2014: State Controller
Cash on Hand: $1,866,339
Interest Earned in 2013: $0.00
Potential Campaign Interest: $16,797.05
Betty Yee
Current Office: Board of Equalization
Campaigning for 2014: State Controller
Cash on Hand: $502,178
Interest Earned in 2013: $0.00
Potential Campaign Interest: $4,519.60
Dave Jones
Current Office: Insurance Commissioner
Campaigning for 2014: Re-Election
Cash on Hand: $1,420,677
Interest Earned in 2013: $74.39
Potential Campaign Interest: $12,786.09
Tom Torlakson
Current Office: Superintendent of Public Instruction
Campaigning for 2014: Re-Election
Cash on Hand: $556,561
Interest Earned in 2013: $415.36
Potential Campaign Interest: $5,009.05
---
---
Related Articles
John Seiler: Let the cry go up across the land: Stop Maldonado! Taxpayer traitor Abel Maldonado now is running for
AUGUST 20, 2010 By JOHN SEILER The research by Adam Schaeffer of the Cato Institute's Center for Education Freedom seemed
MARCH 7, 2011 By LAER PEARCE The chambers were packed at Costa Mesa's City Council meeting last Tuesday night, and