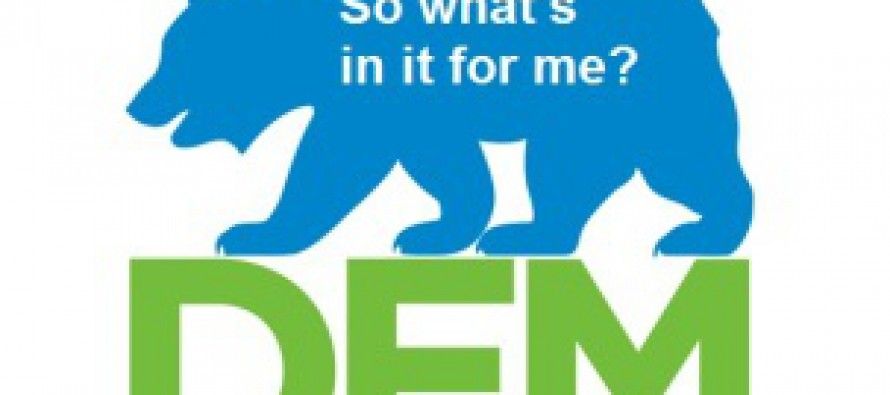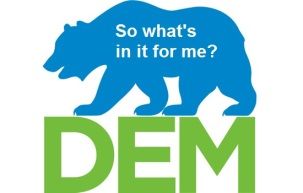 High-profile elected Democrats in all of California's most populous areas are turning out to be corrupt cretins.
The indictment released Wednesday of state Sen. Leland Yee depicts a San Francisco-Oakland-Daly City culture in which gangsters traffic in a long laundry list of crimes — in this case, with the alleged assistance of a Democratic officeholder.
"A 137-page criminal complaint charges 26 people — including Yee and Chow — with a panoply of crimes, including firearms trafficking, money laundering, murder-for-hire, drug distribution, trafficking in contraband cigarettes, and honest services fraud.
"Yee is charged with conspiracy to traffic in firearms without a license and to illegally import firearms, as well as six counts of scheming to defraud citizens of honest services."
Similarly, the details in the indictment of state Sen. Ron Calderon depict a Los Angeles County political culture in which lots and lots of folks strive to make dirty money — either by doing compensated favors for private businesses using their political connections or just figuring out a way to skim from government, especially in health care:
"The U.S. attorney's office [announced] 'charges being filed in a political corruption matter and a case involving a massive healthcare fraud scheme.'
"An affidavit obtained last year by Al Jazeera America includes allegations that Ronald Calderon accepted $88,000 in bribes from an undercover FBI agent and a businessman to affect legislation to extend film-industry tax credits and to change workers' compensation laws.
"The document also said there was also probable cause to believe that Ronald Calderon 'participated in a separate bribery scheme with Michael D. Drobot,' the chief executive officer of Pacific Hospital of Long Beach. The lawmaker allegedly accepted $28,000 from Drobot in exchange for 'supporting legislation that would delay or limit changes in California's workers' compensation laws,' the affidavit said. … the FBI investigation has looked into the Central Basin Municipal Water District, where Calderon's brother Tom worked as a consultant."
The FBI smells a rat — lots of them — in CA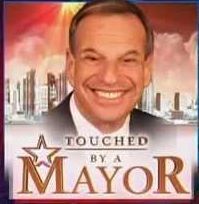 Then there's the case of former San Diego Mayor Bob Filner. People remember the sexual harassment and the groping. But Filner was getting FBI attention even before his lurid scandal — for turning America's Finest City into shakedown street, one in which people seeking city assistance needed to understand they "don't get free things."
This is from early July 2013 — before the memorable press conference at which three of Filner's former allies denounced him as a perv:
  "Federal agents are asking questions about a $100,000 donation to the city made by a developer seeking San Diego Mayor Bob Filner's approval for revisions to a project in Kearny Mesa.
"FBI officials visited more than one city official this week inquiring about the $100,000 in checks, which Filner said last week he returned to the developer, Sunroad Centrum Partners.
"The money was to go to two Filner pet projects, a veterans memorial in Ocean Beach and a daylong bicycling event. According to a voice mail obtained by U-T Watchdog last week, the developer made a connection between the donations and Filner's support of an easement for the project at Kearny Villa Road and Lightwave Avenue."
G-Men not cutting Golden State's D-Men a break
Filner is also a Democrat. Yes, his corruption was of a different, more idiosyncratic sort than Yee's and Calderon's, which strongly suggest deeply corrupt politics and governance in the Bay Area and greater L.A. extending far beyond the accused lawmakers.
But whether this confluence of cases is a coincidence or evidence that Dems are feeling invincible, it's still a pretty striking trend. And we didn't even get to the felonious state Sen. Rod Wright, D-Inglewood.
Hats off to the FBI. The Justice Department may be stonewalling on the IRS scandal, the gun-walking scandal and who knows what else, but when it comes to the Golden State, the G-Men don't seem to be cutting the D-Men a break.
---
---
Related Articles
Dec. 20, 2012 By John Seiler The horrible killings in Newtown have brought to the fore the hidden totalitarian beliefs
The most powerful Latino politician in California is being called out over how he will respond to the Vergara decision,
Steven Greenhut: Former Reagan Administration Secretary of State George Shultz is working arm-in-arm with environmental leftists to stop Prop. 23,