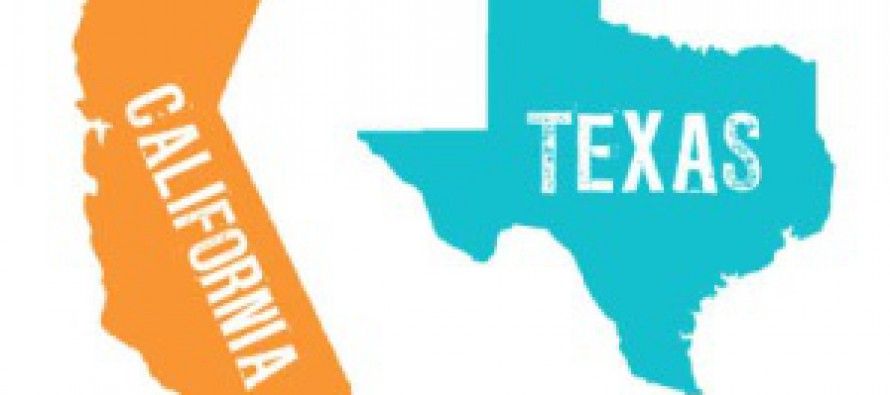 The California vs. Texas fight has gotten stale for my tastes.
It's insanely annoying how so many California defenders simply ignore basic facts like Texas is creating more middle-class jobs or that Texas' Latino and black students do better than California's in K-12 test scores such as the NAEP.
But it's also pretty telling that so many Californians who tout Texas don't acknowledge that for lots and lots of people, California's lifestyle is so vastly more appealing that they'd rather live in a condo here than a 2,800-foot ranch home there.
I'm in that camp. I reject the idea that Texas is some primitive backwater. But where I live in San Diego, the weather is going to be awesome 330 days a year, not 50 days a year. And if you're a foodie, I know people tout Austin. It's not Socal. The 20,000 square miles of California from San Bernardino to the coast to the Mexican border have a staggering variety of great ethnic food. The other I day I had sisig, a Filipino pork dish I didn't know about until last year, and my life felt more complete. Move over, bacon.
A Texas city that seems modeled on … Irvine!
So any kind of CA vs. TX comparison that skips past the talking points is to be welcomed. Now Joe Mathews has just such a piece in which he writes about his road trip to Texas and how dazzled he was not by the state in general but by a suburb of Dallas that sounds like it was modeled on … Irvine!
Here's Joe, relating his experience with the company-relocation recruiters of Frisco, Texas:
"What they talked about most was children — and their education.
"They told the story well. Frisco has one of the fastest growing school districts in the country, adding thousands of students every year. Today, nearly a third of residents are kids, and with good reason.
"Texas is full of giant high schools that produce huge football teams and bands. But Frisco, at considerable cost, has chosen to limit its high schools to no more than 2,100 students. The smaller school approach reflects a philosophy that every child in town should be 'known by name and need.' This strategy had worked. In a 2013 Dallas Morning News list of the best neighborhoods for public schools in the north Texas region, eight of the top 10 neighborhoods were in the Frisco school district.
"My recruiters emphasized the lengths to which Friscoans will go to support their schools. Voters just approved a $775 million school construction bond (a comparably sized bond in the Los Angeles Unified School District would be more than $20 billion). Despite public criticism of the bond as too big and risky, the measure passed with nearly 80 percent of the vote.
"… such family-centered investment didn't stop with schools. Frisco has more than 40 park sites and is in the process of turning some of its most valuable land into a 380-acre centerpiece, Grand Park. There are all kinds of businesses and housing development — from gated communities to urban apartments. The town has so many athletics facilities for its people that I lost count."
Actual reporting, not just blow-harding
Please read Joe's entire piece here. It's nice to see real reporting on the opinion pages.
Now maybe Dan Morain can fly to Germany and give a firsthand report on how a government's overcommitment to green energy has gone haywire.
OK, OK — I won't get my hopes up.
---
---
Related Articles
John Seiler: Today L.A. Times columnist Steve Lopez makes it seem as if, as his headline puts it, "Saving the
A stadium task force named by San Diego Mayor Kevin Faulconer has been holding a rapid-fire series of meetings with