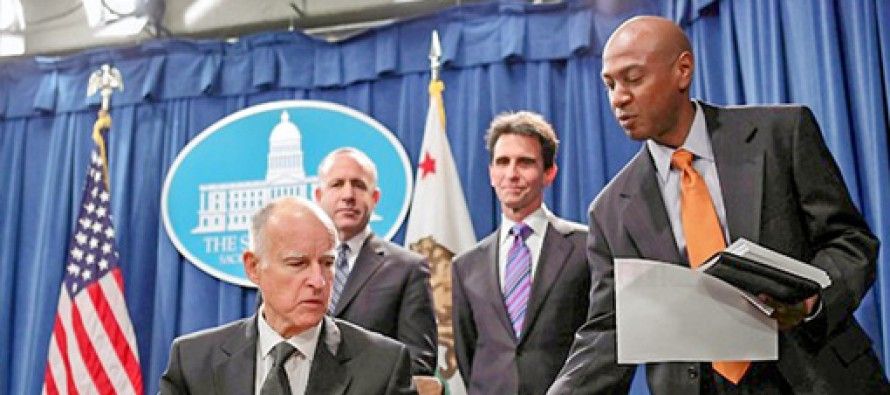 With NFL playoffs and BCS championship here, on whom would you bet? The four-term governor of California, who learned politics at his father's knee 70 years ago? Or the former head of the U.S. Department of Homeland Security?
So the odds are Gov. Jerry Brown, in the end, will best University of California President Janet Napolitano in their tiff over tuition at the school. She is pushing for a 28 percent increase in undergraduate tuition over five years, but Brown wants to keep tuition flat. She has been in that office less than two years. Before going to Washington, she was a politician in Arizona, including governor.
The school actually is not run by Napolitano, but by the Board of Regents. The governor's office announced:
Gareth Elliott, 44, of West Sacramento, has been appointed to the University of California Board of Regents. Elliott has served as legislative affairs secretary in the Office of the Governor since 2011. He was policy director in the Office of California State Senator Alex Padilla from 2008 to 2011 and policy director and deputy chief of staff in the Office of California State Senate President pro Tempore Don Perata from 2004 to 2008. Elliott was a legislative aide and then legislative director in the Office of California State Senator Don Perata from 1996 to 2004. This position requires Senate confirmation and there is no compensation. Elliott is a Democrat.
And according to a story in the Spring 2013 issue of "Humboldt," the magazine of Humboldt State University:
Behind every politician, there's a team of trusted advisors. For California Gov. Jerry Brown, HSU alum Gareth Elliott ('92, Political Science) is a big part of that team.
Elliott is the governor's secretary of legislative affairs, serving as his top emissary to the California State Legislature. It's an important responsibility that requires thick skin, discretion and sound judgment. "One of the most rewarding parts of my job is that I get to learn from someone who has so many years of experience," he says. …
In addition to serving as the governor's advisor, Elliott manages a staff of 10 deputies who specialize in issues like education, transportation, public safety and the environment. The governor calls on them to clarify bills, draft veto messages and determine how to respond in congressional hearings.
Some of the most frenetic times are when the governor has hundreds of bills to veto or sign into law, Elliott says. "We just went through a very intense period where we had 30 days to get through hundreds and hundreds of bills. It's hectic, but I have to pinch myself sometimes that I am the one sitting across the table discussing these issues with the governor."
Politics aside, Elliott looks like an impressive guy. (He's in the above picture handing Brown a paper.) Think he will side with Brown or Napolitano on the board?
---
---
Related Articles
For at least seven years, we've heard University of California officials and Democratic lawmakers describe budget "cuts" at UC as
John Seiler: The latest fiscal folly is Senate President Pro-Tem Darrell Steinberg's bill, SB 653, to allow local governments to
California – a state that has long prided itself on being an environmental global pacesetter – is struggling with the most basic