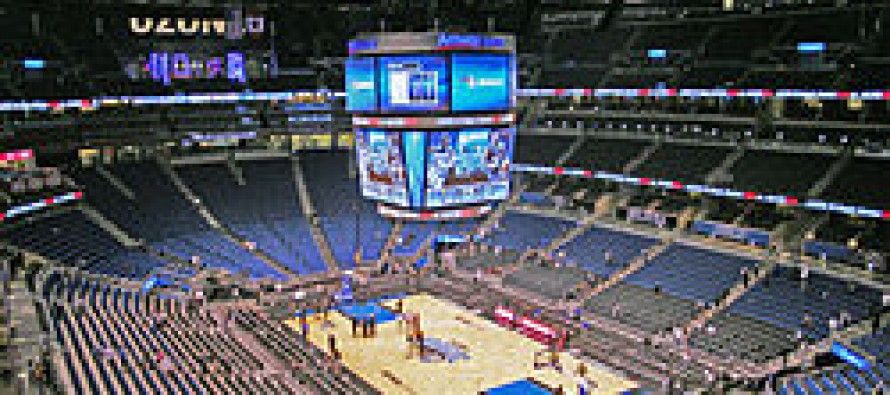 SACRAMENTO — The California Legislature ended the 2013 legislative session Thursday by passing hundreds of new bills. Most of the controversial bills were passed along party lines. However a bill from Sen. Pres. Pro Tem Darrell Steinberg, D-Sacramento, granting a Sacramento arena development an exemption from the state's strict environmental laws, had plenty of help from state Republicans. 
Reform or worsen?
Steinberg insists he's only trying to reform the California Environmental Quality Act.
SB 743, is a gut-and-amend bill by Steinberg is titled, "Environmental quality: transit oriented infill projects, judicial review streamlining for environmental leadership development projects, and entertainment and sports center in the City of Sacramento."
That's the long way of saying this is not really a CEQA reform bill. It's a face-saving way out for Steinberg who has been awkwardly intertwined for more than 13 years with the haphazard development of a new sports arena in downtown Sacramento.
On its way to the Gov
This isn't a one-off bill. Exemptions from the California Environmental Quality Act were granted a couple of years ago for a proposed stadium in downtown Los Angeles for a pro football team, and for a new stadium for the San Francisco 49ers in Santa Clara.
But Steinberg's bill has so much more in it, which have nothing to do with reforming environmental laws:
The bill would allow the City of Sacramento greater eminent domain powers to seize the downtown property currently in the way of building the project.
The firm signed to lead construction of the new NBA Kings arena will be required to use unionized labor in the construction of the project.
The bill will allow only a limited public comment period during the abbreviated CEQA review process.
Even if there are violations to the CEQA laws found in the development of the arena, mitigation cannot be addressed until the end of the first basketball season.
The bill would allow arena construction to go ahead even with forseen traffic impacts. Taxpayers will be on the hook when Caltrans decides to send a bill of $100 million-plus for freeway improvements — after arena construction is already underway.
Who voted for SB 743?
In the Senate, eleven Republicans voted with Steinberg to pass SB 743: Sen. Jean Fuller, R-Bakersfield, Sen. Steve Knight, R-Palmdale, Sen. Ted Gaines, R-Rocklin, Sen. Jim Nielsen,  R-Gerber, Sen. Minority Leader Bob Huff, R-Diamond Bar, Sen. Andy Vidak, R-Hanford, Sen. Mimi Walters, R-Laguna Niguel, Sen. Mark Wyland, R-Escondido, Sen. Tom Berryhill, R-Twaine Hart, Sen. Bill Emmerson, R-Redlands, and Sen. Anthony Cannella, R-Ceres.
Assembly members voting for passage of Steinberg's SB 743 include: Assemblyman Frank Bigelow, R-O'Neals, Assemblyman Travis Allen, R-Huntington Beach, Assembly Minority Leader Connie Conway, R-Tulare, Assemblyman Brian Dahle, R-Bieber, Assemblywoman Beth Gaines, R-Rocklin, Assemblyman Jeff Gorell, R-Camarillo, Assemblyman Brian Jones, R-Santee, Assemblyman Eric Linder, R-Corona, Assemblyman Dan Logue, R-Linda, Assemblyman Brian Maienschein, R-San Diego, Assemblywoman Kristen Olsen, R-Modesto, and Assemblyman Scott Wilk, R-Santa Clarita.
Republicans voting against the bill were: Assembly members Shannon Grove, R-Bakersfield, Diane Harkey, R-Dana Point, Allan Mansoor, R-Costa Mesa, Melissa Melendez, R-Riverside, Mike Morrell, R-Rancho Cucamonga, Brian Nestande, R-Palm Dessert, Jim Patterson, R-Fresno, Rocky Chávez, R-Oceanside, Tim Donnelly, R-Hesperia, and Marie Waldron, R-Escondido.
Only one Republican in the Senate voted against SB 743: Sen. Joel Anderson, R-San Diego.
I told ya so
After Sacramento officials accelerated approval on this latest arena deal in March, I contacted Senate President Pro Tem Darrell Steinberg, D-Sacramento, and asked if he planned on authoring legislation to streamline or bypass the required environmental process for the proposed Sacramento arena. Steinberg's office denied any plan for a CEQA exemption. However, in order to shoehorn the publicly subsidized arena into downtown Sacramento, this had to be in the cards.
California's absurdly strict environmental guidelines and restrictions prevent most large scale projects from ever taking place without legislative intervention. But instead of choosing certain projects for exemption, the California Legislature made noise about the need for CEQA reforms, but thus far, has killed any sincere attempts at real reform.
The Spring flip flop collection
Steinberg announced in late April he was authoring legislation to make changes to California's Environmental Quality Act, including provisions to greatly help Sacramento's proposed downtown arena.
He introduced SB 731 and said it would "accelerate the pace at which a Downtown Sacramento sports and entertainment complex would proceed through the environmental planning process."
Sacramento has spent 13 years trying to build a publicly funded sports arena. And Steinberg has been involved every step of the way.
"Many say given how Sacramento officials have already rammed through the term sheet approval in record time, they will also try to ram the development process through, without giving residents and businesses the standard allotted time to question the process and project," I wrote March 30.
I've written nearly 30 stories on CalWatchdog about the Sacramento arena debacle. I've provided data and studies showing publicly subsidized arenas never pencil out, leaving taxpayers to continue subsidizing the facilities.
What could Steinberg have used to sweetened the pot for Republicans in order to garner some of their votes for passage of SB 743? No one is talking… yet.
---
---
Related Articles
Today California Attorney General Kamala Harris will announce her candidacy for U.S. Senate. She seeks to replace Sen. Barbara Boxer,
Sept. 24, 2012 Katy Grimes: According to the Secretary of State's office, voter registration in California is up, since the 2008
In another "what were they thinking moment," Californians are asking if California's elected Democrats are really as hearing impaired as